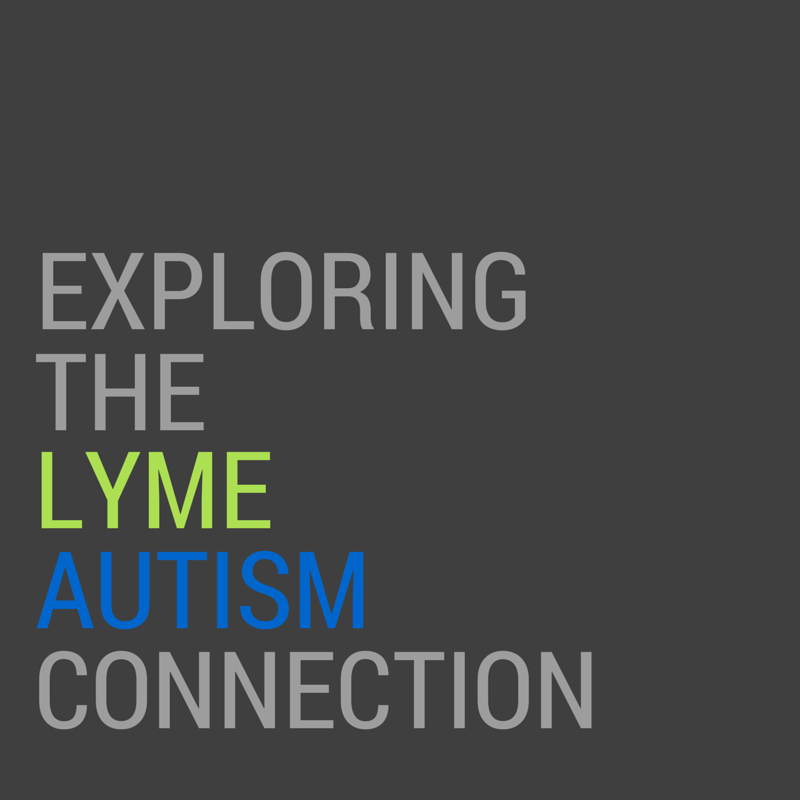 Did you know that Lyme Disease can be an underlying root cause of Autism Spectrum Disorder (ASD) symptoms? Did you know that a substantial percentage of children diagnosed with ASD test positive for Borrelia burgdorferi, the bacteria that causes Lyme Disease?
Informal studies show that at least 20-30% of children diagnosed with autism also test positive for Lyme Disease. Clinicians are reporting numbers ranging from 20% all the way to 90%.
How is Lyme Disease diagnosed?
The biggest obstacle hindering parents and clinicians from connecting the dots between Lyme Disease and autism is the lack of reliable diagnostic tests. The currently available tests for Lyme Disease recommended by the CDC miss about 50% of actual cases pursuant to numerous peer reviewed studies. Children who have a late stage infection or may have even been born with Lyme Disease are less likely to mount a vigorous antibody response which is needed to test positive using the CDC's criteria. It is also critical to note that CDC-endorsed blood tests were only developed to detect a single strain of Borrelia, although there are at least 100 different strains of Borrelia in the United States.
What would happen if doctors used a different standard for Lyme Disease testing, similar to the standard adopted by China? Parents of 48 children who had a diagnosis of ASD and had been diagnosed with Lyme Disease were surveyed before and after treatment. Of the 48 parents surveyed, 45 of them (94%) indicated their child initially tested negative using the two-tiered CDC/IDSA approved test. The parents sought a second physician who diagnosed their child with Lyme disease using the wider range of Western Blot bands. Protein bands OSP-A and/or OSP-B (Western blot band 31) and (Western blot band 34) were found in 44 of 48 patients. These two bands are so specific to Borrelia burgdorferi that they were targeted for use in vaccine trials, yet are not included in the IDSA interpretation of the Western Blot. Hence, it is clear the CDC's criteria is missing an unacceptably high percentage of cases of actual Lyme Disease. For more information, see the Testing section, under Resources on our website.
How are babies and young children contracting Lyme Disease?
The majority of people who have Lyme do not recall either a tick bite or rash. While most people think that Lyme can only be spread by ticks, congenital transmission from mother to child during pregnancy is most likely the cause for children with Lyme-induced autism. Moreover, we believe there is a whole generation of women who have been diagnosed with a "label" diagnosis, such as fibromyalgia, chronic fatigue syndrome, autoimmune conditions, unexplained inflammation, unexplained immune deficiencies, psychiatric conditions such as depression or anxiety, joint pain or muscle pain who have undiagnosed Lyme Disease infections. There are published reports showing that the pathogens that cause Lyme Disease, Babesia and Bartonella have been found in newborn infants, placentae, fetuses or umbilical cords.
The following overlapping symptoms have been found in children with autism, as well as children with Lyme Disease:
Fatigue
Sweats (day or night)
Rashes
Muscle Twitching
Tremor or unexplained shaking
Diminished or absent reflexes
Abnormal blood flow in brain (SPECT), abnormal brain waves
Confusion, difficulty in thinking
Difficulty with concentration or reading
Decreased short-term memory
Disorientation: getting lost, going to wrong place, misplacing things
Difficulty with speech (difficulty finding words, stammering, slurring)
Mood swings, irritability, depression
Disturbed sleep: too much, too little, early awakening
Dementia, anxiety, panic attacks
Obsessive-compulsive disorder
Upset stomach, nausea, vomiting
Change in bowel function (constipation, diarrhea)
Abdominal pain (especially in children)
Joint stiffness, pain or swelling
Muscle pain or cramps
Loss of muscle tone
Arthritis that migrates from joint to joint
Double or tunnel vision
Sensitivity to light (photophobia)
Dizziness, poor balance, increased motion sickness
Irritable bladder or urine control problems, bowel incontinence
Low muscle tone in baby
Delayed development in baby
Children do not typically have all of these symptoms, but rather, clusters of symptoms, particularly involving the neurological system.
Why and how would Lyme Disease cause autism?
In simple terms, Lyme can disrupt every system and can also make children more vulnerable to environmental triggers. Experts believe that children with Lyme are generally more fragile and susceptible to injury or reactions from vaccines, environmental exposures, and infections.
In more scientific detail, "Chronic infectious diseases, including tick-borne infections such as Borrelia burgdorferi, may have direct effects, promote other infections and create a weakened, sensitized and immunologically vulnerable state during fetal development and infancy leading to increased vulnerability for developing autism spectrum disorders. A dysfunctional synergism with other predisposing and contributing factors may contribute to autism spectrum disorders by provoking innate and adaptive immune reactions to cause and perpetuate effects in susceptible individuals that result in inflammation, molecular mimicry, kynurenine pathway changes, increased quinolinic acid and decreased serotonin, oxidative stress, mitochondrial dysfunction and excitotoxicity that impair the development of the amygdala and other neural structures and neural networks resulting in a partial Klüver-Bucy Syndrome and other deficits resulting in autism spectrum disorders and/or exacerbating autism spectrum disorders from other causes throughout life."
 Do children with comorbid autism and Lyme Disease improve with treatment?
In the above-referenced survey, parents were asked to fill out the Autism Treatment Evaluation Checklist (ATEC) before they started antibiotic therapy and after treatment. The children diagnosed with Lyme and autism who were treated with antibiotics improved scores on the ATEC. Anecdotal data also indicated that some of the children achieved previously unattained developmental milestones after antibiotic therapy began. In a different study of five male ASD children who tested positive for Lyme Disease, each child was prescribed 200 mg of amoxicillin three times per day and three of the five children were prescribed an additional 50 mg of Azithromycin once per day. All of the children's scores on the SCERTS Assessment Process Observation (SAP-O) improved after 6 months of antibiotic therapy. The assessors also reported anecdotal data of improved speech, eye contact, sleep behaviors, and a reduction of repetitive behaviors.
While antibiotics are often used to treat a Lyme Disease infection, they are by no means the only modality available. There are herbal, homeopathic and other alternative protocols which can be tailored to fit individual needs. Unfortunately, there are no quick fixes. Different methods work for different Lyme patients – there is no one-size-fits-all approach. Recovery from Lyme takes time and patience.
What can you do now?
Without question, there appears to be connection between autism and Lyme for some children. We absolutely, positively need more research, from a variety of researchers and perspectives, utilizing more sensitive tests to detect Borrelia burgdorferi.
With your help and donation, we can help raise awareness and fund much needed research.
We also encourage any parents of children with autism to strongly consider Lyme testing, preferably using more reliable laboratory tests under the guidance of a Lyme specialist.